Maintaining relationships when working remotely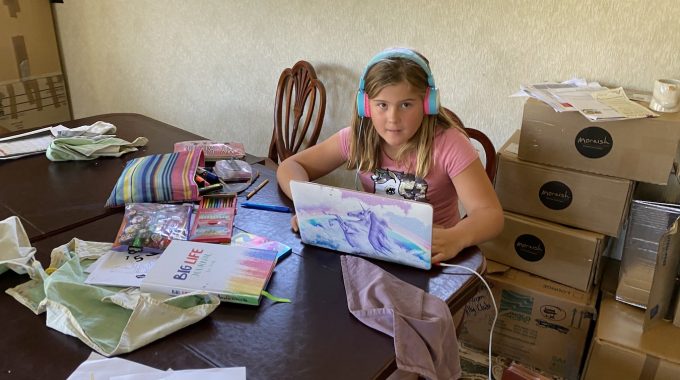 In a world where technology and artificial intelligence seem set to take over, I feel secure in the knowledge that the human connection is still the single most powerful teaching and learning tool that we have.

"Teachers instruct of course, but it is not all that they do… Time spent establishing relations of care and trust is not time wasted. Everything in teaching goes better as a result." (Nel Noddings)

From Meredith Phinney, via Twitter
The past couple of weeks has been an amazing time seeing all the support that educators are providing their communities as they prepare for learning at home. Indeed, moving your entire school or organisation to remote learning/working – unless of course it's something that you're used to doing – will almost certainly reveal some challenges. And over the past few days, I've been thinking about this, both in the context of my own business, and that of the people we work with. About how we can stay genuinely connected to people – those we work alongside, and those we serve.
And here's what I've come up with so far… a bit of an overview of why I think this is important, and probably more importantly, some practical ideas to help you, your colleagues and those you serve maintain relationships when working remotely:
1. Focus on maintaining connections that grow relationships.
We recommend that leaders, teachers and learning assistants make sure they have at least one way of connecting directly with their students. This is critical because unless you maintain a connection, you actually have no way of doing anything else!
This is where technology can really help you to remain connected with your students to support their learning. It certainly helps us to stay in really close contact with our team, especially at the moment.
When you are looking at how to approach this issue, consider the frequency of your contacts with your students, your staff and your community. This will no doubt be via some sort of video conferencing tool (like Google Hangouts, or Zoom for instance), so make sure if you're not already, that you familiarise yourself with the platform you're going to use. (This post includes a couple of tip sheets for helping you get properly set up and comfortable using Google Hangouts.)
2. Maintain the emotional aspects of the connection
When your teaching programme has to be pared down to the bare essentials because you are working remotely, what would you consider to be the most important elements to make it all work?
To me, it is the relationships you have with each of your students that enables all else to happen. It is your relationship with them that enables your students to trust you, so helps you to help them take their learning to new places.
So then the question becomes now that there's a physical disconnect between you, how might you maintain the relationships you've strived so hard to develop? I have listed a few ideas at the end of this blog that might serve as helpful starting points.
3. Consider the types of interactions you have, and how these support or maintain your relationships
We all know that learning is a social experience and classrooms are diverse social ecosystems that support this. So what might this somewhat scary and uncertain transition into remote teaching and learning look like for you?
If you can firstly identify the types of interactions that happen in your classroom – between yourself and your students, between themselves and other groups within the school community, and then notice how they are spread out over a day, or a week and so on, you'll be starting from a point of knowledge. You will be able to look at issues of balance in your programme in a way that you can encourage and design the learning so it enables these relationships to continue, and in a way that enables and supports learner agency. For example, as I write this, my nine year old daughter Amelia is doing Go Noodle with one of her classmates – was this intentionally designed into her learning programme I wonder? (I must find out!!)
4. Consider the situations in which different types of interaction can occur
One thing that we know for sure, is that students all across the world (and their teachers) are socialising online like never before. Now is such an amazing opportunity to capitalise on this for the betterment of learning. And while it might seem counterintuitive to say so, it's not through technology that we do this – technology is purely the conduit – we do this through relationships.
So as I think about these things both as a former Principal who loves and values technology, and someone who specialises in maximising the opportunities IT gives educators, here are some ideas that I think may be helpful for you as you and your team work to very quickly navigate your teaching way in our new normal.:
Situation

Types of interaction

New ideas

School assemblies

One or a few speaking to the whole. Some whole group singing

Google Hangout or Zoom conference assembly. Google Hangouts/Meet lets you stream video!

Set up an agenda with guest speakers (including students/teachers).

Here is an example from GEG NZ (though not an assembly, you'll get the idea!).

Start of day

Circle time, sharing, connecting, listening, drama, singing, dancing, etc.

Think about how you might leverage your students' creativity and get them to help you re-create this situation via digital means. If you get some great ideas, please share them in the comments on this post.

Student drops in to speak to teacher/principal

Ad hoc, informal and personalised opportunity, usually 1 on 1 but sometimes groups

Implement a way to check-in each day with students/staff using a Google Form

.

Create an 'always on' hyperlink (this might be at certain times) for students to connect with staff – you might roster staff for this perhaps?

Use appointment slots in Google Calendar

Fitness/PE

Skills-based teaching, games, practicing, problem solving. Whole class and/or groups

This an opportunity for a bit of tik toking from the students, or short videos to post to inspire their classmates. Get creative and have fun!

Storytime

Teacher (or others) reading to/with/by students. Fostering a love of reading and literature.

Roster staff (or others like parents or support staff, perhaps?) to read to the students via video conference.

Hold a book discussion group.

Here is an example from Tawa School in Wellington

Clubs – any clubs, random clubs, code clubs – you name it clubs

A Focussed group around the area of interest. Project-based work, skills learning

This has heaps of possibilities.

Code Club NZ

is an obvious example of this. What others can you think of? Again, please share yours in the comments below, or on

our Facebook page

to help inspire other educators

Random fun

Quizzes, polls, spontaneous creativity, jokes, riddles, etc.

This has all sorts of possibilities.

We will be generating some ideas for you to use here – for example, my 9-year-old Amelia is doing Go Noodle together with her friends.

Parent contact

f2f contact usually focused on one issue and usually a 1 to 1 interaction

Phone them – keep it simple! If you want to keep your mobile number private when you do this, we have a great QuickTip which shows you two ways to anonymise your mobile calls.

Google Hangout or Zoom conference is also a great way to connect. 

You might use Google Calendar to offer suggestions for when you are available.

Informal as-needed interactions

Small group, individual and sometimes whole group

Consider a class chatroom using Google Hangout Chat, or using the Google Classroom stream is a great way to do this. You can create an 'as needed' chit chat type space for students to jump in any time. 

Here is a tip sheet for this – and remember to establish some guidelines for newbies so they don't spam everyone.
5. Maintain balance, with a focus on wellbeing and hauora
And finally, encourage students, families and staff to maintain balance and focus on wellbeing/hauora. It is not all about being 'online' or working digitally all the time, it is about ensuring the people couped up with one another are encouraged to stay connected in meaningful and personal ways. We suggest that if you intentionally design fun and balanced experiences – it will pay off.
So there you have it. A summary of things I've been thinking about as I wonder how school communities, and in particular school leaders and teachers, can best maintain student relationships as we head into this unknown lockdown territory.
And while it seems a little uncertain, and might appear to be a lot of work initially, actually, this enforced, remote blended learning approach will almost certainly reveal some useful and valuable opportunities for how you connect and build relationships online in the future.
But for now, let's focus on the now, and take it one step at a time.
If you feel you need some help, there are plenty of resources to help you work remotely on this site, or if you're looking for ideas around something particular, feel free to contact us.
Otherwise, enjoy, explore and share any great ideas with us you go. Good luck!
3.
Maintaining relationships when working remotely
Our free QuickTips email bulletin is focused on making
remote work successful.
We are sorry that this post was not useful for you!
Let us improve this post!
Tell us how we can improve this post?
Facebook Comments