How to avoid jumping to conclusions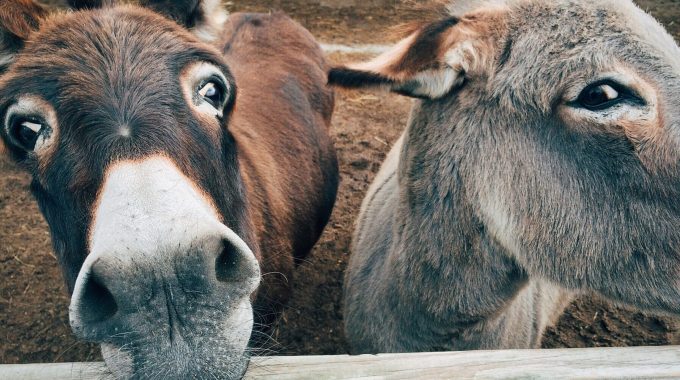 When you're faced with the pressures of leading an organisation, it can sometimes be challenging to make the best decisions, especially when faced with a plethora of demands from different stakeholders. When you are under multiple pressures it can be useful to adopt a tool or technique to enable you to avoid jumping to conclusions, and therefore better differentiate your leadership actions.
As a leader, how do you check your thinking?
Have you ever found it can be hard to reserve judgement and remain neutral when having a heated debate or discussing an upcoming decision in a group where people may disagree or have different views? If so, why do you think this is? Could it be that you find it difficult because you are passionate and care deeply about the success of your organisation? Or maybe, just maybe… you might have become set in your way of thinking and therefore struggle to appreciate – or even entertain – the views of others? (I know that might sound harsh, but sometimes, even as leaders, we can be blind to this).
An example I recently experienced was when working with a leadership team where one member voiced an opinion without providing a specific example to illustrate their point. For some, this made it feel like somewhat of an accusation, but without any substance. Because the opinion being shared was somewhat contentious, there was potential for it to push the team into conflict; some leaders immediately asked what was meant and wanted examples.
The more contentious an issue, the more important it is to avoid injecting emotion
Interestingly, I noticed that one of the leaders appeared to show emotion when asking for these examples. This made me wonder if the opinion being voiced was perhaps challenging. It also illustrated to me how easy it is – somewhat natural and automatic – to inject emotions into conversations involving contentious issues, which can unintentionally escalate the situation.
When you find yourself in situations like this, especially as a leader, it's helpful to draw on a tool or technique that not only helps you to reserve judgement, but also helps you avoid attaching emotion to the issue. In my experience, being able to do this as a leader creates a more open atmosphere that allows for more rigorous dialogue, and builds a culture of trust amongst your team.
This is akin to what leadership guru Stephen Covey talked about as first seeking to understand, then seeking to be understood, or what he identifies as the 5th habit of highly effective people.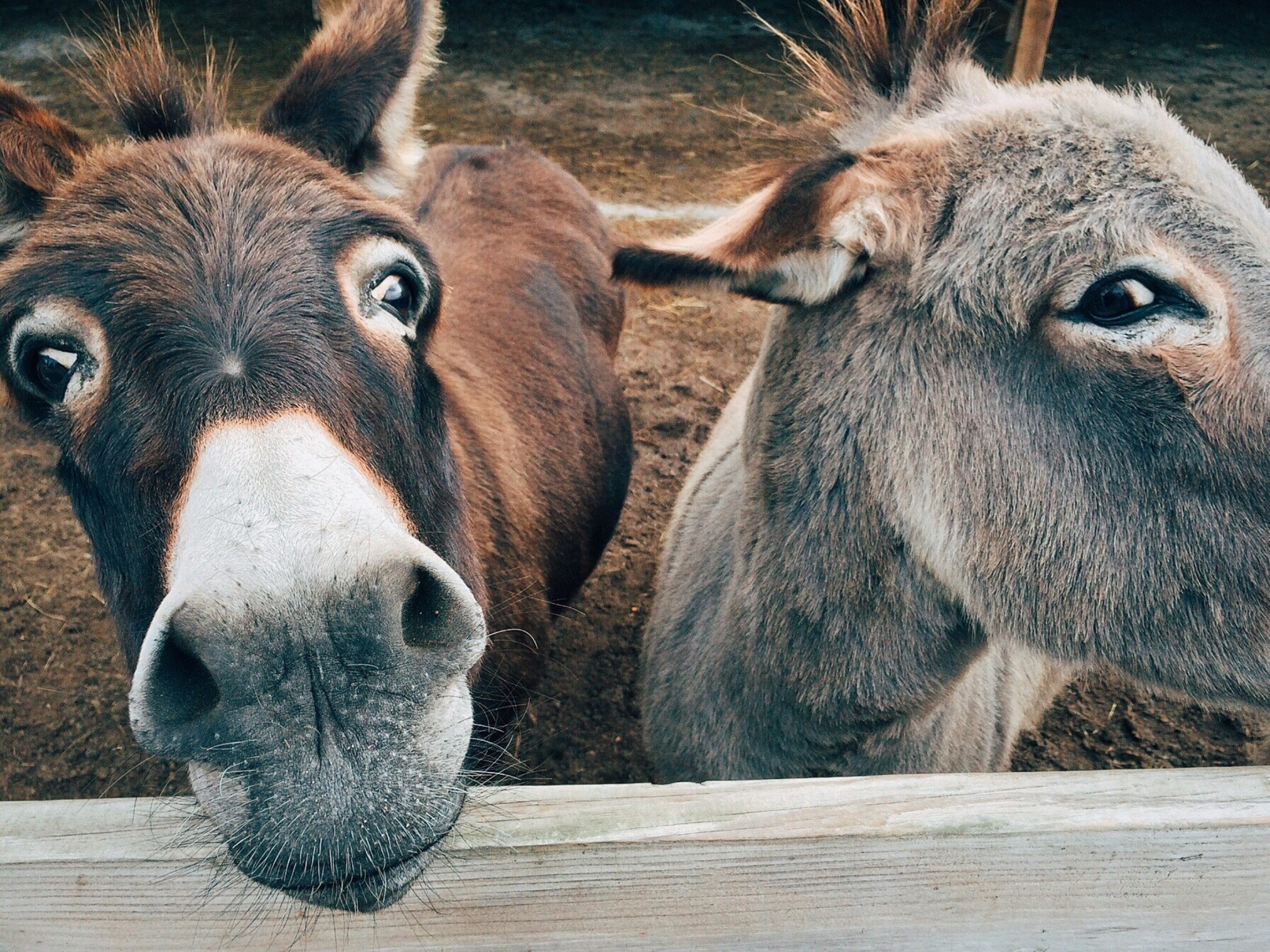 Two donkeys. Did you figure out why?
When we make assumptions, it can have the unfortunate effect
of making
an ASS out of U and ME. Best to avoid 😉
How to differentiate your leadership actions
One of the best tools I have come across to help leaders to suspend judgement, avoid leaping to conclusions and stay open during dialogue, is the Ladder of Inference.
Often referred to as a 'decision making' tool, the Ladder of Inference can facilitate better decision making because it encourages us to follow logical steps to check and reflect on where we are in our thinking process to avoid making assumptions, stop leaping to conclusions and make better decisions. When you can avoid making assumptions and reserve judgement, you are effectively differentiating your leadership actions by involving all views in any discussion.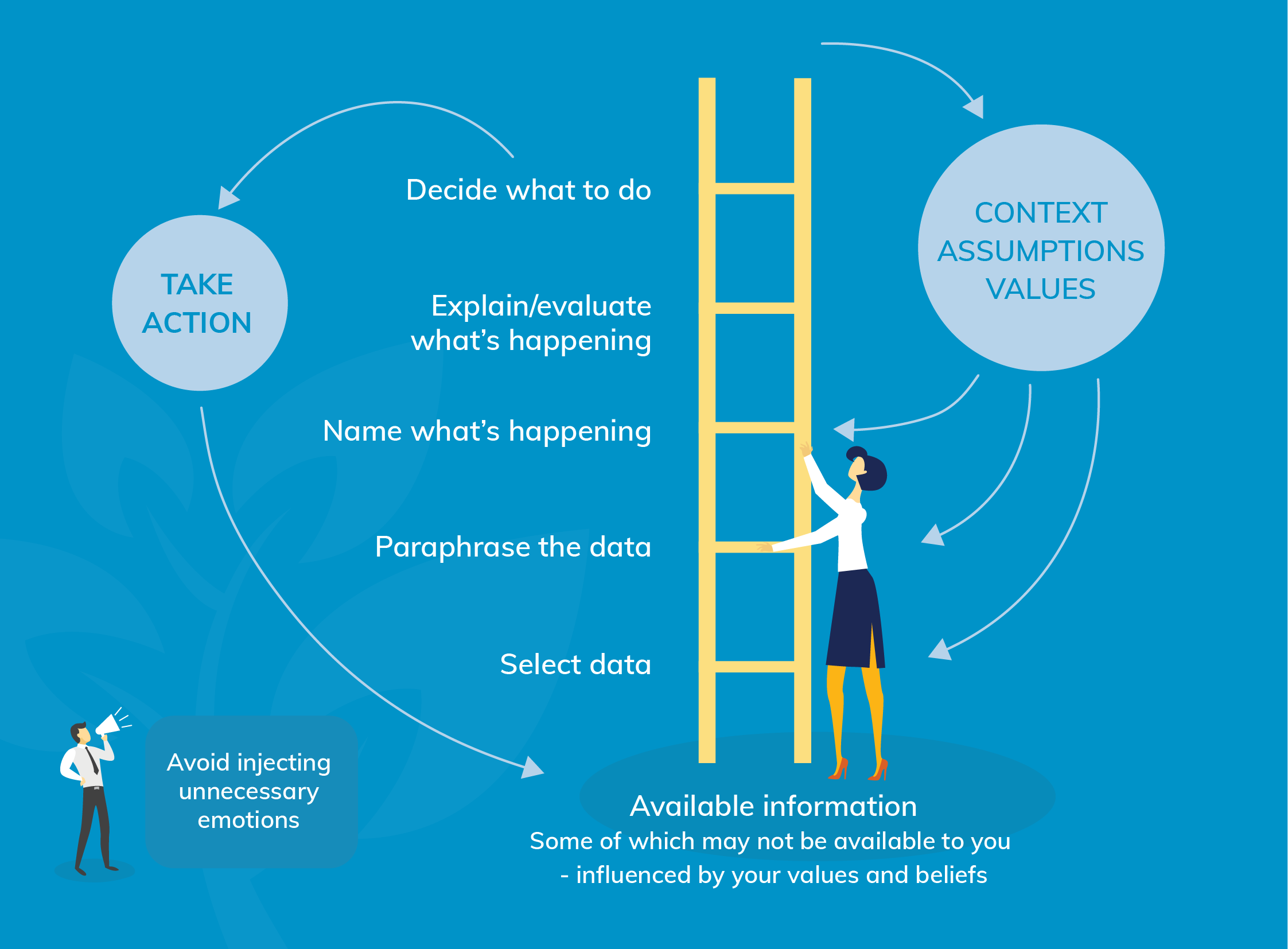 Six reasons to use the Ladder of Inference
Being reflective as a leader is so important. The Ladder helps you to become more aware of your own thoughts and reasoning. 

Making it clear to others how your own reasoning process works. This allows others to gain a better understanding of your motives.

Researching the thought process of other people, by actively asking them about theirs. The benefit of this is that you will encourage them to clarify and expand their thinking, thus benefiting everyone.

To slow decision making down, ensuring processes are more thorough and leadership more inclusive. This expands the space for building mutual understanding and trust.

To help you manage emotions when dealing with contentious issues. Again, this will help you to suspend judgment and view issues from multiple perspectives.

To help you or your team suspend decisions and gather all available facts and information prior to making a decision.
How to get started
The best way to get started with the Ladder of Inference is to actively use it with your team. One way might be to get someone to be a guide during meetings – their job is to call out anyone who moves too quickly up the ladder. Of course, you'll need to assign time to reflect on the dialogue itself – but if you do it will pay off!
So, the next time you are faced with an emotional or contentious issue, give the Ladder of Inference a go to help differentiate your leadership, and avoid jumping to conclusions.
8.
How to avoid jumping to conclusions
We are sorry that this post was not useful for you!
Let us improve this post!
Tell us how we can improve this post?
Facebook Comments